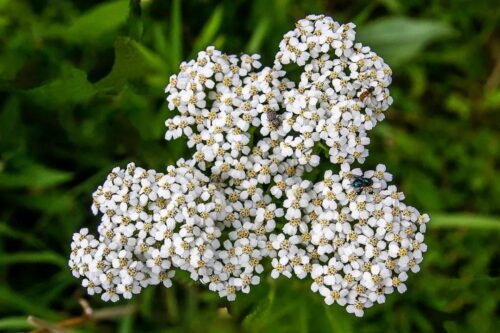 Yarrow
Achillea millefolium
【Overview】
Origin: Hungary
Botanical Family: Asteraceae
Botanical Scent: Typically has a medicinal aroma with camphor notes, but the scent can vary due to different chemical compositions.
Extraction Part: Whole plant
Extraction Method: Steam distillation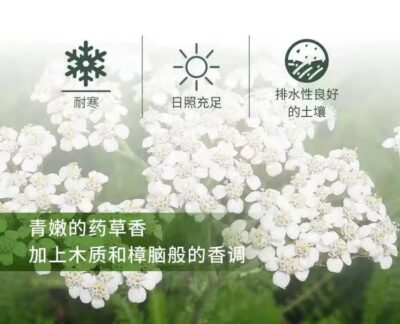 Yarrow essential oil originates from Pécs, one of the ancient cities in Hungary, situated between the Danube and Drava rivers. The climate in this region is pleasant, with relatively long hours of sunshine throughout the year, falling under a continental temperate deciduous forest climate. Yarrow is highly cold-resistant and grows in grassy slopes, favoring environments with abundant sunlight and well-draining soil.
【Main Benefits】
◇ Main Components|Monoterpenes, sesquiterpenes, ketones, oxides
Yarrow (Achilea millefolium) essential oil is obtained through steam distillation, and its composition includes monoterpenes, sesquiterpenes, ketones, and oxides. The primary constituents are chamazulene, beta-caryophyllene, alpha- and beta-pinene, sabinene, linalool, 1,8-cineole, bornyl acetate, camphor, borneol, and more. This combination of components indicates its anti-inflammatory, pain-relieving, and antimicrobial properties.
➢ Pharmacology, phytochemistry, and pharmacological characteristics of Yarrow (Achilea millefolium): A review.
Commonly used for gastrointestinal discomfort, liver and gynecological conditions, inflammation resistance, and wound healing. It exhibits potential anti-inflammatory and anti-ulcer properties.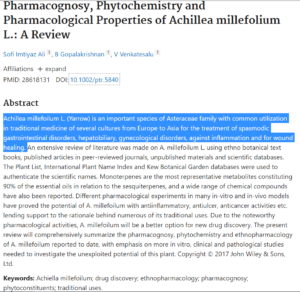 【Component Analysis】
1. Chamazulene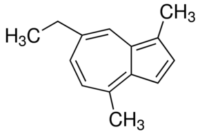 • Azulene is a blue substance formed during the distillation process.
Chamazulene is derived from azulene.
• Benefits: Regulates inflammation, modulates leukotrienes (inflammatory precursors), aids in skin recovery, and assists with ulcers.
➢ In vitro and in vivo models have shown that Chamazulene reverses arthritis inflammation by regulating matrix metalloproteinases (MMP) and the NF-kβ pathway.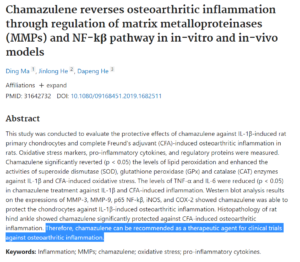 2. Sabinene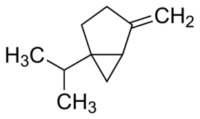 • Benefits: Regulates chronic inflammation.
➢  Sabinene has been found to prevent skeletal muscle atrophy by modulating the rat MAPK-MuRF-1 pathway.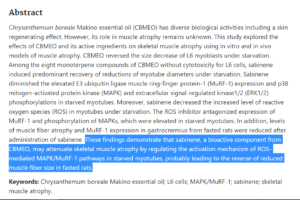 3. ß-caryophyllene
• Benefits: Regulates inflammation, provides pain relief, aids in wound healing.
➢  Beta-caryophyllene assists in wound healing through multiple pathways.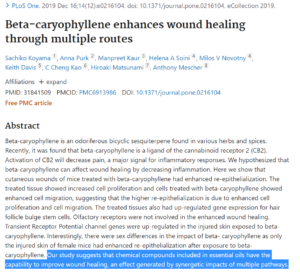 【Market Applications】
◇ Uses/Features
1. Skincare Products
Such as: Facial soap, cleansing mousse, toner, essence, emulsion, skin balancing lotion, cream, eye cream, etc.
Effects: Cleanses and inhibits microorganisms, balances skin, soothes and regulates, purifies the skin, and aids in skin recovery.
2. Body Care Products
Such as: Shampoo, shower gel, bath accessories, soothing lotion, soothing balm.
Effects: Inhibits microorganisms, soothes inflammation, relieves itching, alleviates skin discomfort, improves circulation, and promotes wound healing.
3. Daily Necessities Products
Such as: Massage oil, pain relief ointment, etc.
Effects: Soothes/relaxes muscles, aids in bile secretion, alleviates sprains and pain, and has anti-anxiety effects.
4. Environmental Cleaning Products 
Such as: Purifying spray, hand wash.
Effects: Inhibits microorganisms, purifies the air.
➢  Hydroxyethanol extract of Yarrow: An effective ingredient used in cosmetics, with significant potential to enhance the effectiveness of cosmetic ingredients.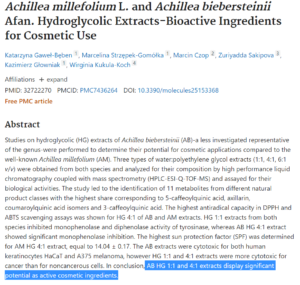 【Product Description】
◇ Formula Application/Usage
• Solubility: Lipophilic (fat-soluble)
• Mixing Method
Add at room temperature without additional heating to avoid prolonged exposure to high temperatures.
Add the cosmetic product to the oil phase for dissolution at room temperature, and then mix and participate in the emulsification process.
◇ Precautions
• Please adjust the usage ratio according to individual skin conditions.
• This product is a raw material; it is recommended to dilute before use.
• Conduct a patch test on a small area of the skin before applying to the face.
• Please use in normal doses.
Reference|
1. Ding Ma , Jinlong He , Dapeng He. Chamazulene reverses osteoarthritic inflammation through regulation of matrix metalloproteinases (MMPs) and NF-kβ pathway in in-vitro and in-vivo models. Biosci Biotechnol Biochem. 2020 Feb;84(2): 402-410.
2. Rezaei S, Ashkar F, Koohpeyma F, Mahmoodi M, Gholamalizadeh M, Mazloom Z, Doaei S. Hydroalcoholic extract of Achillea millefolium improved blood glucose, liver enzymes and lipid profile compared to metformin in streptozotocin-induced diabetic rats. Lipids Health Dis . 2020 Apr 27;19(1):81.
3. Gaweł-Bęben K, Strzępek-Gomółka M, Czop M, Sakipova Z, Głowniak K, Kukula-Koch W. Achillea millefolium L. and Achillea biebersteinii Afan. Hydroglycolic Extracts-Bioactive Ingredients for Cosmetic Use.Molecules. 2020 Jul 24; 25(15):3368.
4. Yunkyoung Ryu et al. Sabinene Prevents Skeletal Muscle Atrophy by Inhibiting the MAPK-MuRF-1 Pathway in Rats. Int J Mol Sci 2019 Oct 8;20(19):4955.
5. Ayoobi F, Moghadam-Ahmadi A, Amiri H, Vakilian A, Heidari M, Farahmand H, Fathollahi MS, Fatemi I, Shafiei SA, Alahtavakoli M, Shamsizadeh A. Achillea millefolium is beneficial as an add-on therapy in patients with multiple sclerosis: A randomized placebo-controlled clinical trial. Phytomedicine. 2019 Jan;52:89-97.
6. Sachiko Koyama et al. Beta-caryophyllene enhances wound healing through multiple routes, PLoS One. 2019 Dec 16;14(12):e0216104.
7. Ali SI, Gopalakrishnan B, Venkatesalu V. Pharmacognosy, Phytochemistry and Pharmacological Properties of Achillea millefolium L.: A Review. Phytother Res. 2017 Aug;31(8):1140-1161.
8. García-Risco MR, Mouhid L, Salas-Pérez L, López-Padilla A, Santoyo S, Jaime L, Ramírez de Molina A, Reglero G, Fornari T. Biological Activities of Asteraceae (Achillea millefolium and Calendula officinalis) and Lamiaceae (Melissa officinalis and Origanum majorana) Plant Extracts. Plant Foods Hum Nutr. 2017 Mar;72(1):96-102.
9. Becker LC, Bergfeld WF, Belsito DV, Hill RA, Klaassen CD, Liebler DC, Marks JG Jr, Shank RC, Slaga TJ, Snyder PW, Andersen FA.Safety Assessment of Achillea millefolium as Used in Cosmetics. Int J Toxicol. 2016 Nov;35(3 suppl):5S-15S.
10. Akram M.Minireview on Achillea millefolium Linn. J Membr Biol. 2013 Sep;246(9):661-3.
|Some images sourced from the internet. Contact for copyright removal.|
For more exciting content, please contact Pureness' official LINE@ account! (Click to add)