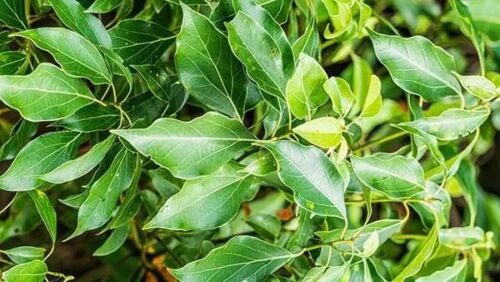 Ravintsara
Cinnamomum camphora
【Overview】
Origin | Madagascar
Plant Family | Lauraceae
Plant Odor | Mild camphoraceous aroma, fresh and clean leafy fragrance
Extraction Part | Leaves
Extraction Method | Steam Distillation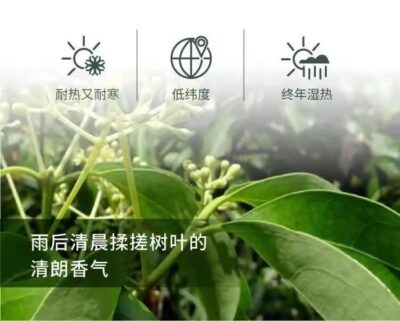 Preferred origin from the eastern rainforests of Madagascar.
Madagascar is a "brilliant gem" in the Earth's ecosystem, with a unique geographical location. The island's climate varies greatly, and the tropical rainforest climate of the east, with low latitude and high temperature all year round, provides an excellent growth environment for Ravensara leaves.
Due to the abundant sunlight, Ravensara leaves also contain a wealth of valuable essences. Because of its remarkable performance in promoting human health, it is hailed as the national tree of Madagascar, and there are many Ravensara trees over 200 years old planted both inside and outside the presidential palace.
【Main Benefits】
◇ Main Components | Oxides
The main component is 1,8-cineole (known to have mucolytic effects), α-Terpineol, and also trace elements such as α-pinene, camphene, and limonene.
➢  Ravensara is used to treat inflammation-related symptoms due to its components such as phenylpropanoids, lignans, flavonoids, coumarins, and terpenoids, which have shown anti-inflammatory effects in vitro.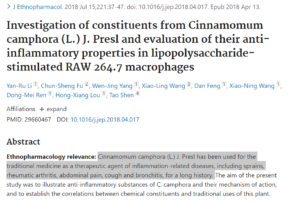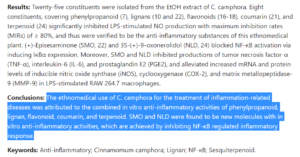 【Component Analysis】
1. 1,8 Cineole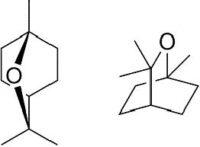 • Chemical Properties: With up to 62.6% of the oxide (1.8-cineole) component, Ravensara essential oil has a strong regulatory effect on the respiratory system. Its uplifting and fresh scent can boost the mood and stimulate the body's resistance to the environment.
◇ Pharmacokinetics
An in vitro experiment showed that 1,8-cineole can stimulate monocytes, thus mediating the generation of leukotriene LTA4 and prostaglandin PGE2, both of which are metabolites of arachidonic acid AA. This indicates that 1,8-cineole is suitable for treating bronchial discomfort.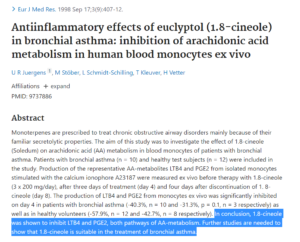 • Benefits: Enhances environmental resistance, soothes cough, expectorant, analgesic, anti-rheumatic, anti-microbial.
• Uses: Commonly used in various foods and spices, as well as for antimicrobial and preservative purposes.
2. α-Terpineol
α-Terpineol (also known as lilac alcohol) has a lilac aroma and is a commonly used compound, including α-T and T-4-on, with diverse biological effects on humans, animals, and plants.
• Benefits: Regulates blood pressure, antioxidant, gastric protection, anticonvulsant, sedative, relieves bronchial inflammation, skin penetration enhancer.
• Uses: Not only popular fragrance components in perfumes, cosmetics, and household cleaning products but also used in seasoning food and beverages. They also have various important biological and medicinal properties. Additionally, α-terpineol is used in soap, pesticides, medicine, plastics, telecommunications, and instrument industries and as a solvent for coloring glassware.
【Market Applications】
◇ Uses / Features 
• Addresses respiratory issues, such as soothing cough and purifying the air.
• Balances and cares for the skin.
• Helps with excessive fatigue, muscle weakness, and muscle tension relief.
• Relieves anxiety and depression.
1. Skincare Products 
Benefits: Cleanses, inhibits microorganisms, balances oily skin, purifies the skin, and soothes inflammation.
Examples: Facial soaps, cleansing mousses, toners, serums, lotions, skin conditioning liquids, creams, eye creams, etc.
2. Body Care Products 
Benefits: Inhibits microorganisms, soothes inflammation, suitable for addressing excessive fatigue, muscle weakness, and relieving muscle tension.
Examples: Shampoos, shower gels, bath accessories, soothing lotions, etc.
3. Personal Care Products 
Benefits: Soothes respiratory allergies, prevents colds, and purifies the air.
Examples: Massage oils, essential oil sprays, diffusers.
4. Environmental Cleaning Products 
Benefits: Inhibits microorganisms and cleanses.
Examples: Cleansing sprays, hand wash.
【Product Description】
◇ Formula Application / Usage |
• Solubility: Lipophilic (oil-soluble).
• Recommended Mixing Method:
- Add at room temperature in a gentle manner, no additional heating required, to avoid prolonged exposure to high temperatures.
- Add the oil phase to the cosmetic formulation before emulsification, and blend it in after mixing.
◇ Precautions |
• Adjust the usage proportion according to individual skin condition.
• This product is a raw material, and it is recommended to dilute it before use.
• Before using on the face, conduct a patch test on a small area of the skin.
• Please use in normal amounts as directed.
Reference|
1. Jihai Zhou , Kun Cheng , Guomin Huang. Effects of exogenous 3-indoleacetic acid and cadmium stress on the physiological and biochemical characteristics of Cinnamomum camphora. Ecotoxicol Environ Saf. 2020 Mar 15;191:109998.
2.Zhang GF, Huang QL, Bi XQ, Liu YL, Yuan ZS. Analysis of endophytic bacterial community diversity and metabolic correlation in Cinnamomum camphora. Arch Microbiol. 2020 Jan;202(1):181-189.
3.Chen J, Tang C, Zhang R, Ye S, Zhao Z, Huang Y, Xu X, Lan W, Yang D. Metabolomics analysis to evaluate the antibacterial activity of the essential oil from the leaves of Cinnamomum camphora (Linn.) Presl. J Ethnopharmacol. 2020 May 10;253:112652.
4.Na-Jin Kang et al. Cinnamomum camphora Leaves Alleviate Allergic Skin Inflammatory Responses In Vitro and In Vivo. Toxicol Res. 2019 Jul;35(3):279-285.
5. Wenting Wang , Dongxiang Li , Xiaoqin Huang. Study on Antibacterial and Quorum-Sensing Inhibition Activities of Cinnamomum camphora Leaf Essential Oil. Molecules. 2019 Oct 21;24(20):3792.
6. Liu X, Meng Y, Zhang Z, Wang Y, Geng X, Li M, Li Z, Zhang D.
Functional nano-catalyzed pyrolyzates from branch of Cinnamomum camphora. Saudi J Biol Sci. 2019 Sep;26(6):1227-1246.
7. Pan L, Lie GW, Xue L, Chen HY. Changes of Cinnamomum camphora root characteristics and soil properties under ozone stress in South China. Environ Sci Pollut Res Int. 2019 Oct;26(30):30684-30692.
8.Effects of Cinnamomum camphora leaf litter cover on soil carbon and nitrogen cycles under different water conditions]. Ying Yong Sheng Tai Xue Bao. 2019 Jan 20;30(1):85-94.
9.Ma X, Hu Z, Mao J, Xu Y, Zhu X, Xiong H. Synthesis of cocoa butter substitutes from Cinnamomum camphora seed oil and fully hydrogenated palm oil by enzymatic interesterification. J Food Sci Technol. 2019 Feb;56(2):835-845.
10. Huang W, Xu M, Duan H, Bi Y, Yu H. Inhibition of Fusarium oxysporum by AgNPs biosynthesised using Cinnamomum camphora fruit extract. IET Nanobiotechnol. 2019 Feb;13(1):42-45.
11. Chen C, Zheng Y, Zhong Y, Wu Y, Li Z, Xu LA, Xu M. Transcriptome analysis and identification of genes related to terpenoid biosynthesis in Cinnamomum camphora. BMC Genomics. 2018 Jul 24;19(1):550.
12. Chen S, Zheng T, Ye C, Huannixi W, Yakefu Z, Meng Y, Peng X, Tian Z, Wang J, Ma Y, Yang Y, Ma Z, Zuo Z. Algicidal properties of extracts from Cinnamomum camphora fresh leaves and their main compounds. Ecotoxicol Environ Saf. 2018 Nov 15;163:594-603.
13. Li YR, Fu CS, Yang WJ, Wang XL, Feng D, Wang XN, Ren DM, Lou HX, Shen T. Investigation of constituents from Cinnamomum camphora (L.) J. Presl and evaluation of their anti-inflammatory properties in lipopolysaccharide-stimulated RAW 264.7 macrophages. J Ethnopharmacol. 2018 Jul 15;221:37-47.
14. Yang B, Liu S, Liu Y, Li X, Lin X, Liu M, Liu X. PAHs uptake and translocation in Cinnamomum camphora leaves from Shanghai, China. Sci Total Environ. 2017 Jan 1;574:358-368.
15. Caihui Chen , Yongjie Zheng. The complete chloroplast genome of Cinnamomum camphora and its comparison with related Lauraceae species. PeerJ. 2017 Sep 18;5:e3820.
16. Guo X, Cui M, Deng M, Liu X, Huang X, Zhang X, Luo L. Molecular differentiation of five Cinnamomum camphora chemotypes using desorption atmospheric pressure chemical ionization mass spectrometry of raw leaves. Sci Rep. 2017 Apr 20;7:46579.
17. Fu J, Zeng C, Zeng Z, Wang B, Gong D. Cinnamomum camphora Seed Kernel Oil Ameliorates Oxidative Stress and Inflammation in Diet-Induced Obese Rats. J Food Sci. 2016 May;81(5):H1295-300.
18. Fu J, Zeng C, Zeng Z, Wang B, Wen X, Yu P, Gong D. Cinnamomum camphora Seed Kernel Oil Improves Lipid Metabolism and Enhances beta3-Adrenergic Receptor Expression in Diet-Induced Obese Rats. Lipids. 2016 Jun;51(6):693-702.
19. Ravensara aromatica ou Ravintsara : une confusion qui perdure parmi les distributeurs d'huiles essentielles en Europe et en Amérique du Nord. June 2012. Phytotherapie 10(3)
20. Olivier Behra et al. Ravintsara vs ravensara a taxonomic clarification. International Journal of Aromatherapy. Volume 11, Issue 1, 2001, Pages 4-7.
|Some images sourced from the internet. Contact for copyright removal.|
For more exciting content, please contact Pureness' official LINE@ account! (Click to add)