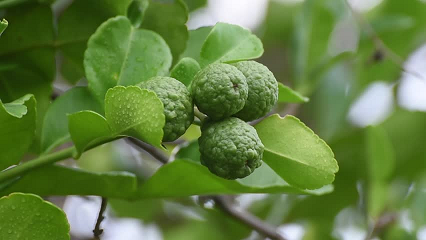 Bergamot
Citrus bergamia
【Overview】
Origin | Preferred source from the southern region of Italy, Calabria.
Botanical Family | Rutaceae
Aromatic Profile | Possesses a blend of citrus and clean fruity fragrance
Extraction Point | Peel of the fruit
Extraction Method | Expression method (Cold-pressing)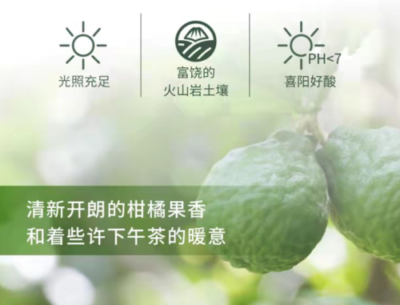 The preferred source comes from the Calabria region in southern Italy.
Calabria, Italy, is known as the birthplace of ancient Mediterranean civilizations and is often referred to as the "toe" of Italy. The region enjoys abundant sunlight and excellent air quality, and the fertile volcanic ash soil nurtures citrus plants, resulting in sweet, juicy, and high-quality fruits.
The Bergamot tree yields fruit from late November to mid-February. During this period, Calabrians harvest the ripe and aromatic bergamot fruits, ensuring that the obtained bergamot essential oil possesses exceptional purity and abundant superior plant compounds.
【Main Benefits】
◇ Components
Its components include linalyl acetate, limonene, linalool, as well as other compounds such as pinene, ß-phellandrene, and γ-terpene. Additionally, it contains trace amounts of non-volatile components with phototoxicity, such as bergamot furanocoumarin (FCF). The composition may vary depending on the origin. There are also bergamot essential oils available without furanocoumarins (FCF).
Citrus oils are primarily composed of active monoterpenes. However, bergamot's main components, linalyl acetate and linalool, are also representative compounds of "true lavender." As a result, bergamot exhibits remarkable calming and soothing effects.
➢ Aromatherapy using bergamot essential oil can significantly reduce symptoms of anxiety, mild mood disorders, and cancer-related pain caused by stress.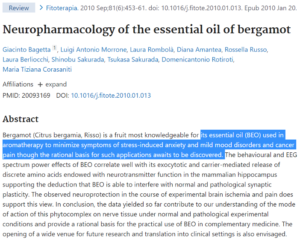 ➢ Research on the efficacy and mildness of inhaling bergamot essential oil for mental health indicates that bergamot aromatherapy can serve as an adjunctive therapy for maintaining personal psychological well-being.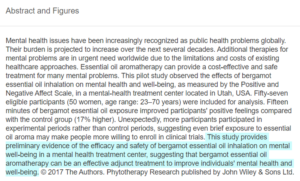 【Component Analysis】
1. Linalyl acetate

◇ Pharmacokinetics
Bergamot essential oil is, in fact, a relaxant that promotes the secretion and regulation of neurotransmitters such as dopamine and serotonin, producing a calming and relaxing sensation, reducing nervousness, anxiety, and stress.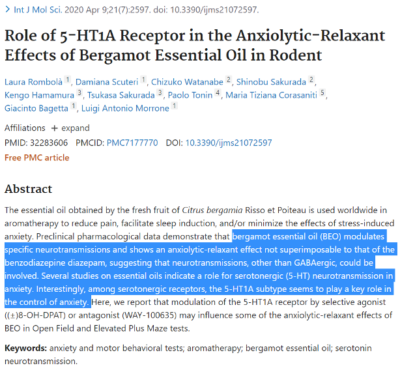 • Benefits: Soothing emotions, reducing anxiety, relaxing tension, antispasmodic, aiding sleep, relieving stress.
2. Linalool

• Benefits: Calming nerves, reducing anxiety, aiding sleep, relaxing tension, soothing inflammation, overall antimicrobial effect (especially in the respiratory, digestive, and urinary systems).
• Uses: Perfumery, used as a raw material for synthesizing vitamins E and K.
【Market Applications】
As early as the 16th century, Italy established its bergamot essential oil industry. To this day, there is still no consensus on the botanical origin of bergamot in biology, as well as whether the economically valuable subspecies is a variant or a hybrid. Although bergamot fruit is inedible, its oil has diverse applications. It is not only used in perfumery but also as a flavoring agent for Earl Grey tea, tobacco, and various food items.

◇ Uses / Features
Regulating the autonomic nervous system, calming and soothing, invigorating the spirit.
• Antimicrobial.
• Balancing sebum secretion, alleviating inflammation.
• Maintaining a healthy metabolic rate, aiding digestion.
• Blending fragrances and spices.
1. Skincare Products
Benefits: Cleansing and antimicrobial properties, purifying the skin, soothing and calming, regulating oil and skin discomfort, counteracting free radicals and skin aging, and smoothing scars.
Examples: Facial soaps, cleansing mousses, toners, serums, lotions, skin conditioners, creams, eye creams, etc.
2. Body Care Products
Benefits: Antimicrobial, reducing inflammation in sensitive skin, counteracting free radicals and skin aging.
Examples: Shampoos, shower gels, etc.
3. Personal Care Products
Benefits: Enhancing physiological functions, alleviating inflammation, helping to soothe phlegm in the nasal or chest area, calming the nervous system, stabilizing and balancing emotions, anti-depression, promoting peace and relaxation.
Examples: Massage oils, essential oil sprays, diffusers.
4. Environmental Cleaning Products
Benefits: Antimicrobial, purifying, and removing odors.
Examples: Purifying sprays, hand soaps, perfume compounds.
5. Food Industry|
Often used as a flavoring agent and spice.
【Product Description】
◇ Formula Application/Usage
• Solubility: Lipophilic (Oil-soluble).
• Mixing Method:
- Add at room temperature, no additional heating required to avoid prolonged high temperatures.
- Add the oil phase to the cosmetic formulation for dissolution before emulsification.
◇ Precautions
• Please adjust the usage ratio according to individual skin conditions.
• This product is a raw material, and it is recommended to dilute before use.
• Before applying to the face, perform a patch test on a small area of the skin.
• Please use in normal doses.
Reference|
1.Straface M, Makwana R, Palmer A, Rombolà L, Aleong JC, Morrone LA, Sanger GJ. Inhibition of Neuromuscular Contractions of Human and Rat Colon by Bergamot Essential Oil and Linalool: Evidence to Support a Therapeutic Action. Nutrients. 2020 May 12;12(5):1381.
2.Rombolà L, Scuteri D, Adornetto A, Straface M, Sakurada T, Sakurada S, Mizoguchi H, Corasaniti MT, Bagetta G, Tonin P, Morrone LA. Anxiolytic-Like Effects of Bergamot Essential Oil Are Insensitive to Flumazenil in Rats. Evid Based Complement Alternat Med. 2019 Aug 14;2019:2156873.
3.Bergamot ( Citrus bergamia ) Essential Oil Inhalation Improves Positive Feelings in the Waiting Room of a Mental Health Treatment Center: A Pilot Study: Essential Oil Inhalation Improves Positive Feelings. March 2017 Phytotherapy Research 31(Suppl)
4.Rational Basis for the Use of Bergamot Essential Oil in Complementary Medicine to Treat Chronic Pain. Mini Reviews in Medicinal Chemistry, Volume 16, Number 9, 2016, pp. 721-728(8).
5.Eri Watanabe et al.Effects of Bergamot (Citrus bergamia (Risso) Wright & Arn.) Essential Oil Aromatherapy on Mood States, Parasympathetic Nervous System Activity, and Salivary Cortisol Levels in 41 Healthy Females. Forsch Komplementmed 2015;22:43– 49.
6.A.MarinoaI.Paternitia. et al. Role of natural antioxidants and potential use of bergamot in treating rheumatoid arthritis. PharmaNutrition.Volume 3, Issue 2, April 2015, Pages 53-59.
7.LauraSánchez-González et al. Study of the release of limonene present in chitosan films enriched with bergamot oil in food simulants. Journal of Food Engineering.Volume 105, Issue 1, July 2011, Pages 138-143.
8.LauraSánchez-González et al. Effect of hydroxypropylmethylcellulose and chitosan coatings with and without bergamot essential oil on quality and safety of cold-stored grapes. Postharvest Biology and Technology.Volume 60, Issue 1, April 2011, Pages 57-63.
9.Bagetta G, Morrone LA, Rombolà L, et al. 2010. Neuropharmacology of the essential oil of bergamot. Fitoterapia 81: 453–461.
10.Rombolà L, Corasaniti MT, Rotiroti D, Tassorelli C, Sakurada S, Bagetta G, Morrone LA.Effects of systemic administration of the essential oil of bergamot (BEO) on gross behaviour and EEG power spectra recorded from the rat hippocampus and cerebral cortex. Funct Neurol. 2009 Apr-Jun;24(2):107-12.
11.Genetic variability to essential oil composition in four citrus fruit species. June 2006 Pakistan Journal of Botany 38(2).
|Some images sourced from the internet. Contact for copyright removal.|
For more exciting content, please contact Pureness' official LINE@ account! (Click to add)