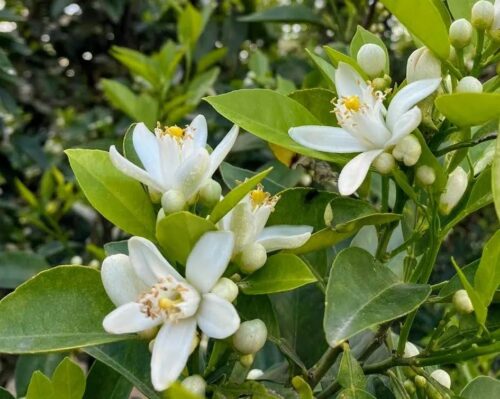 Neroli
Citrusaurantium var. amara
【Overview】
Origin | Egypt, near the Mediterranean region Plant Family | Rutaceae Plant Odor | A sweet, elegant, and rich woody aroma with a mild intensity and low-key tone, accompanied by a woody bitterness. Extraction Part | Flowers Extraction Method | Distillation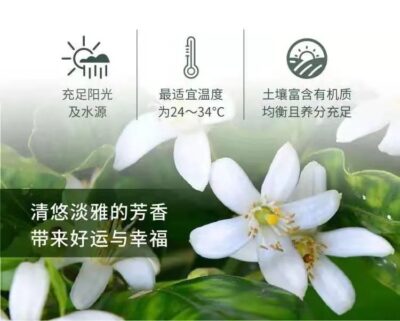 The environment near the Mediterranean region of Egypt is characterized by unique soil formed by volcanic eruptions, rich in minerals, which is suitable for plant growth. Ample sunlight enhances the quality of the flowers and highlights their efficacy. The Mediterranean region is often characterized by gravelly soil with high alkalinity, giving the orange blossoms a slight bitterness but with a more balanced effect.
The orange tree, from which the essential oil can be extracted, is primarily divided into Bitter Orange and Sweet Orange. The essential oil produced from the Bitter Orange tree, whether from the fruit, leaves, or flowers, is of higher grade and more effective. The essential oil from Bitter Orange flowers, with a hint of bitterness and spiciness, is an excellent choice for perfumes.
【Main Benefits】
◇ Main Components|Monoterpenols, Monoterpenes, Esters
Neroli essential oil, obtained through distillation, consists mainly of monoterpenols, monoterpenes, and esters. The primary components include linalool (also known as bois de rose alcohol), limonene, and linalyl acetate. Other components include β-caryophyllene, α-terpineol, β-pinene, geranyl acetate, and others, such as nerolidol, nerol, farnesol, neryl acetate, and indole.
➢ Due to its GABA system, Neroli has anticonvulsant properties and can help control epileptic seizures.
The main components of Neroli are linalool (28.5%), linalyl acetate (19.6%), nerolidol (9.1%), E,E-farnesol (9.1%), α-terpineol (4.9%), and limonene (4.6%). These components support the use of Neroli essential oil in controlling seizures and provide a biological aid in anticonvulsant activity.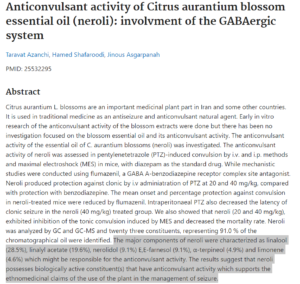 【Component Analysis】
1. (R)(-)-Linalool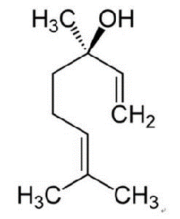 • Benefits: Antimicrobial, healing for acne, sleep and relaxation aid, anti-anxiety and stress relief, insect repellent, odor remover.
2. Linalyl Acetate (also known as Ethyl Linalool Acetate)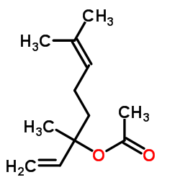 • Benefits: Physiological and psychological regulation, promoting relaxation and soothing effects, restoring physical and mental balance.
• Uses: Neroli essential oil, derived from the flowers of bitter orange trees, is a key ingredient used in perfumes, cosmetics, and cleaning products. It plays a significant role in creating fragrances such as lemon, orange leaf, lavender, and various floral scents like jasmine and orange blossom. Neroli serves as a base ingredient for sweet and fresh floral scents, such as ylang-ylang, to enhance their aromatic profile. In addition to its use in personal care products, Neroli essential oil is also utilized in food flavorings, particularly in pineapple, citrus, and peach-flavored edible essences for products like chewing gum, candies, baked goods, and beverages.
3. Nerolidol
• Benefits: Antimicrobial, anti-inflammatory, and soothing effects, skin penetration enhancer.
➢ Nerolidol is a major component in many plants, and it exhibits various properties, such as antimicrobial, antiparasitic, anti-biofilm, anti-nociceptive, anti-inflammatory, anti-ulcer, skin penetration enhancement, and insecticidal.

➢ Essential Oil and Original Extract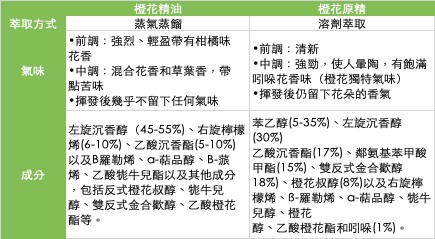 【Market Application】
◇ Usage/Characteristics
• Balancing the skin and promoting skin recovery
• Soothing skin discomfort
• Relaxing nerves and combating anxiety
• Antimicrobial, purifying, odor-removing, insect-repelling
1. Skincare Products
Benefits: Cleansing and antimicrobial effects, balancing the skin, promoting skin recovery (enhancing keratinocyte differentiation), increasing skin elasticity, enhancing skin penetration, soothing inflammation.
Examples: Facial soaps, cleansing mousses, toners, essences, emulsions, skin-regulating fluids, creams, eye creams, etc.
2. Body Care Products
Benefits: Antimicrobial, soothing inflammation, alleviating blood vessel constriction (relieving hot flashes during menopause), suitable for sensitive and delicate skin to alleviate discomfort; for the scalp, it helps regulate hair shine, elasticity, and balance sebum secretion.
Examples: Shampoos, body washes, bath products, soothing lotions, after-sun care creams.
3. Daily Necessities Products
Benefits: Provides calming, relaxation, and anxiety-reducing effects, making it suitable for baby skincare products, skincare items, and perfumes.
Examples: Massage oils, essential oil sprays, diffusers, fragranced products, etc.
4. Environmental Cleaning Products
Benefits: Antimicrobial, purifying, odor-removing, insect-repelling.
Examples: Purifying sprays, antimicrobial hand washes, insecticides, and repellents.
【Product Description】
◇ Formula Application/Usage
• Solubility: Lipophilic (oil-soluble)
• Mixing Method
- Add at room temperature without additional heating to avoid prolonged exposure to high temperatures.
- Add the essential oil to the oil phase before emulsification and mix thoroughly.
◇ Precautions
• Adjust the usage ratio according to individual skin conditions.
• This product is a raw material, and it is recommended to dilute before use.
• Conduct a patch test on a small area of skin before applying to the face.
• Please use the product in the recommended dosage.
Reference|
1.Bora H, Kamle M, Mahato DK, Tiwari P, Kumar P.Citrus EssentialOils (CEOs) and Their Applications in Food: An Overview. Plants (Basel). 2020Mar 11;9(3):357.
2.da Fonsêca DV, da Silva Maia Bezerra Filho C, LimaTC, de Almeida RN, de Sousa DP. AnticonvulsantEssential Oils and Their Relationship with Oxidative Stress in Epilepsy.Biomolecules. 2019 Dec 6;9(12):835.
3.Salehi B, Armstrong L, Rescigno A, Yeskaliyeva B,Seitimova G, Beyatli A, Sharmeen J, Mahomoodally MF, Sharopov F, Durazzo A,Lucarini M, Santini A, Abenavoli L, Capasso R, Sharifi-Rad J. Lamium Plants-AComprehensive Review on Health Benefits and Biological Activities.Molecules. 2019 May 17;24(10):1913.
4.Dosoky NS, Setzer WN.Int J Mol Biological Activities and Safety of Citrus spp. Essential Oils.Sci. 2018 Jul 5;19(7):1966.
5.Mirzaei-Najafgholi H, Tarighi S, Golmohammadi M,Taheri P. The Effect of Citrus EssentialOils and Their Constituents on Growth of Xanthomonas citri subsp. citri.Molecules. 2017 Apr 14;22(4):591.
6.Anticonvulsant activity of Citrus aurantiumblossom essential oil (neroli): involvment of the GABAergic system. Nat ProdCommun. 2014 Nov;9(11):1615-8.
7.Khodabakhsh P, Shafaroodi H, Asgarpanah J. Analgesic and anti-inflammatory activitiesof Citrus aurantium L. blossoms essential oil (neroli): involvement of thenitric oxide/cyclic-guanosine monophosphate pathway. J Nat Med. 2015Jul;69(3):324-31.
8."Structural characterization and antioxidantactivities of polysaccharides from Citrus aurantium L," International Journalof Biological Macromolecules, vol. 67, pp. 112–123, 2014.
9.Chemical composition and in vitro antimicrobialand antioxidant activities of Citrus aurantium l. flowers essential oil (Nerolioil). Pak J Biol Sci. 2012 Nov 1;15(21):1034-40.
10.Phenolic compounds characterization and biologicalactivities of Citrus aurantium bloom," Molecules, vol. 17, no. 2, pp. 1203–1218,2012.
11.Evidence of the sedative effect of neroli oil,citronellal and phenylethyl acetate on mice. Journal of Essential Oil Research,4(4), 387-394.
12.Inhalation of Neroli Essential Oil and ItsAnxiolytic Effects." Journal of Complementary and Integrative Medicine 5 (1)
13.Nogueira de Melo GA, Grespan R,Fonseca JP, Farinha TO, Silva EL, Romero AL, Bersani-Amado CA, Cuman RK. Rosmarinus officinalis L. essential oil inhibits in vivo and in vitroleukocyte migration.J Med Food. 2011Sep;14(9):944-6.
|Some images sourced from the internet. Contact for copyright removal.|
For more exciting content, please contact Pureness' official LINE@ account! (Click to add)